Get better flavor and a satisfying throat hit with these proven nic salt vapes
So you're serious about becoming a vaper and you're looking to kick that smoking habit for good. If you've heard that nicotine salt ejuices are the way to go then you're on the right track. But what device should you use? Not all devices are meant to be used with nic salts. That's why we've put together this list of the best vapes for nicotine salts 2022.  
The devices that we've chosen are perfect for use with nicotine salts and are known as pod vapes. We've chosen these nicotine salt vapes based on their function, quality, performance, and appearance. So no matter which one you choose, you can rest easy knowing that you're getting a great device for nicotine salts that will help you smoothly transition to vaping.
---
Best Vapes For Nicotine Salts 2022: The Best Flavor & Throat Hits
Whether you're looking for a nic salt device that is draw activated or button activated, with replaceable pods or with replaceable coils, or extremely portable and stealthy, we've got you covered. Here is our list of the best vapes for nicotine salts 2022.
The Caliburn A2 is everything you could want from a nic salt vape. It delivers a nice MTL draw and excellent flavor that is unrivaled among pod vapes. The replaceable 0.9Ω pods are perfect for nic salts and work just as well with regular nicotine ejuices. Plus, the low output wattage of 15W means that the 520mAh battery provides long, all-day usage — even for heavy vapers.

CHECK PRICE



Why Trust Us
All of our buyer's guides and reviews are based on market research, expert input, and practical experience with the products we include. This way, we offer genuine, accurate guides to help you find the best picks.
Learn more
---
2ml Eliquid Capacity

520mAh Battery
Replaceable Pods
Draw/Button Activated Firing
The Caliburn A2 is a low-profile and light pod vape made by Uwell that hits just right for nicotine salts. It has a very skinny and slim profile that is ultra-portable and it's available in seven different colors. The Caliburn A2 delivers a nice, medium-tight MTL draw that feels just right — it's not too tight, but also not too loose.
For such a small device, the Caliburn A2 packs a surprisingly large 520mAh battery and functions with both draw-activated firing as well as a single firing button.
The Caliburn A2 uses replaceable 0.9ohm pods that deliver excellent flavor. It fires at ultra low wattages that make it perfect for nicotine salts but it will also work just as well with regular nicotine ejuices. The refillable pods will hold up to 2ml of eliquid and are easily refilled by removing the dip tip.
The Caliburn A2 will fire at a maximum of 15W, however this wattage will decrease as the battery depletes. There's an LED battery life indicator to let you know when it's time to recharge.
For a simple yet effective nicotine salt vape, the Caliburn A2 is a device that doesn't disappoint.
PROS
Flavorful, warm vape
Button or draw activation
Good battery life
Lightweight
Pods don't leak

CONS
Only 1 type of pod available (0.9Ω)
---
2ml Eliquid Capacity

950mAh Battery
Replaceable Pods
Draw Activated Firing
Ultra compact, sleek, and stylish, the Mi-Pod Pro+ is a great choice for a nic salt vape. It's super simple to use due to its all-in-one design. Just pop in a pod, fill it up, and you're good to go. All you have to do to start vaping is turn the power on and inhale on the mouthpiece and the Mi-Pod Pro+ will start producing vapor — it's really that simple. 
The Mi-Pod Pro+ features an attractive and high-end design that is available in 13 different colorways. In addition to its great looks, the Mi-Pod Pro+ produces excellent flavor that you wouldn't expect from such a small pod vape.
In the box you get two pods which have the coils built-in. These pods have an ample 2ml pod capacity and can easily be refilled through a port on the side of the pod. 
The Mi-Pod Pro+ houses a large 950mAh built-in battery that lasts, and features a simple LED battery life indicator to let you know where your battery life is sitting. Blue is near full charge, purple is half charge, and red means that it's close to needing a recharge.
It's hassle-free and it just works. Whether you're a beginner vaper, or just looking for a stress-free device, the Mi-Pod Pro+ is definitely one of the best picks for a salt nic vape.
PROS
 Very flavorful
Nice loose MTL draw
Very easy to set up and vape with
Good battery life
Long pod life
CONS
Only one type of pod available (0.9Ω)
Designs might not be to everyone's liking

Get 20% off your entire order
USE CODE "VV20"
---
3ml Eliquid Capacity

1200mAh Battery
Replaceable Pods
Draw Activated Firing
Voopoo is known as one of the best manufacturers of vape mods in the industry and their new "VMATE" series of pod devices are similarly good and high-quality devices. 
As the latest in the VMATE series, the VMATE E doesn't disappoint. It brings great battery life, excellent portability, and fantastic flavor. It has a high-end design that looks and feels expensive, but it is still affordably priced and a great value for what you get. 
The VMATE E is meant for MTL vapers and provides a great MTL vape from both coils. The 0.7Ω coil delivers a slightly looser MTL draw but works at higher wattages, while the 1.2Ω coil delivers a tighter draw and a cooler vape due to working at lower wattages. Both pods are very flavorful and perfect for nicotine salt ejuices.
The VMATE E is a simple device with no screen or complicated features to speak of so it's great for beginners. The wattage automatically adjusts itself based on the coil that you're using too, so you'll get a great draw every time. 
The VMATE E has an airflow control slider that is located on the side of the device and this allows you to set the MTL draw to just how you prefer. This is anywhere from a 'loose' mouth to lung draw to a tight MTL draw. Each pod will hold up to 3ml of eliquid. 
A unique feature of this device is that it comes with a dust cap. This dust cap can be used when you put the device in your pocket or bag and it will prevent lint and dirt from entering the mouthpiece.
The VMTE E is sleek, portable, and comfortable to vape with. It packs a 1200mAh built-in battery and uses USB Type-C charging for quicker charging than other micro-USB nicotine salt devices on the market. The VMATE E is undoubtedly one of the most well-built and best performing nicotine salt vapes of the year.
PROS
Beautifully designed device
Comes with 2 pods
Adjustable airflow is good for tight to loose MTL draw
Good flavor and throat hit
Anti-leaking pod design actually doesn't leak
Comes with a dust cap to protect from lint and dust
CONS
No pass-thru charging
0.7Ω pod delivers pretty warm vapor

---
2ml Eliquid Capacity

520mAh Battery
Replaceable Pods
Draw Activated Firing
If you are looking for a salt nic vape for beginners, the Uwell Caliburn AK2 is perfect. It has a nice design, it's simple to fill and use, and it delivers great flavor. It has a 520mAh built-in battery for long, all-day usage and it's also one of the most battery efficient pod vapes around. Not to mention that it's super small which makes it easy to take around.
The Caliburn AK2 uses replaceable pods and it comes with two 0.9Ω pods that will vape either regular nicotine ejuices or nic salt ejuices. Once the coil in the pod is burned out (after about 2 weeks of use) you just replace it with another pod. The pods are very affordable and this makes it a great device for those just getting into vaping.
The pods on the AK2 hold 2ml of eliquid. Your ejuice will last you a while too thanks to its low power output (the AK2 will fire at a maximum of 15W). This device is also draw-activated so you don't have to push a button to vape; just draw on the mouthpiece and it will start producing vapor.
The AK2 has a nice draw that isn't too tight nor too airy and this will satisfy most beginner vapers who are looking to quit smoking. It's really a great device. For its ease of use, great flavor and slick form factor, the Caliburn AK2 easily makes our list of the best vapes for nicotine salts.
PROS
No leaking or other performance issues
Compact and lightweight
Long pod life
Excellent flavor
Great throat hit with regular or nicotine salt ejuices
CONS
Only one type of pod available
Ejuice viewing window is only visible on one side
---
3.3ml Pods

1100mAh Battery
Replaceable Coils
Draw/Button Activated Firing
The Nord Pro is the follow up to one of the most popular nicotine salt vapes of all time. The Nord Pro remains super simple to use. You can vape by either pressing the power button or by drawing on the mouthpiece. You can also change the airflow for either DL or MTL vaping depending on which way you insert the pod. The Nord Pro will fire at up to 25W and will automatically adjust the wattage depending on the coil that you use.
The compact size and weighted feel make it comfortable to hold, while the curved mouthpiece keeps it comfortable to use. The Nord Pro includes a single pod and two coils: a 0.9Ω coil that is suited for MTL vapers and nicotine salts, and a 0.6Ω coil for DTL vapers and regular nicotine ejuices.
The Nord Pro is one of the most leak-resistant pod vapes around and the pod features a coil lock to ensure that the coil stays in place. It's also extremely simple to fill; there's a side port which is secured by a rubber plug to prevent leaking. The pods will hold up to 3.3ml of ejuice.
The Nord Pro also houses a large 1100mAh built-in battery that will definitely get you through a day of heavy vaping. Available in ten different designs, including two-tone fades & stabilized wood panel options, the Nord Pro is a great combination of good looks and performance.
The Nord Pro beats out most of the competition and has solidified its place as one of the best salt nicotine vapes of 2022.
PROS
Excellent flavor
Long battery life
Comes with 2 coils
No leaking
Great throat hit with nic salts
CONS
No wattage adjustment

---
2ml Eliquid Capacity

900mAh Battery
Replaceable Pods
Button & Draw Activated
You may have seen that OXVA makes great tanks, but they also make great vapes for nicotine salts too. The XLIM V2 is a small and capable device that uses replaceable pods. The V2 is not all that different from the V1, however OXVA listened to the vaping community and changed the one major complaint that people had about it; the pods. While the pods on the V1 were notoriously hard to fill, the XLIM V2 uses a rubber plug on the side of the pod. It's easy to fill and it's extremely leak resistant, too.
You can adjust the wattage on the OXVA XLIM V2 from 5-25W and there's an airflow slider to adjust your draw. The versatility of the airflow on this device is definitely one of its most attractive features. Fully open, the XLIM V2 delivers a loose MTL draw but the airflow can be taken down to a tight MTL draw by closing off the airflow. 
The XLIM V2 comes with two great pods: a 0.6Ω pod that is best from 20-25W and a 0.8Ω pod that is best from 12-16W. Both coils are the perfect resistance for nicotine salts but they also work great for vaping regular nicotine ejuices. We suggest using higher strength salts with the 0.8Ω pod, and lower strength salts (10-25mg) with the 0.6Ω pod. 
Both pods wick like a charm, even with high VG ejuices, and produce some of the best flavor you can get from a nicotine salt vape. They're also very leak resistant, something that we're sure many vapers will appreciate.
The 900mAh battery will get you about 2-3 pods of vaping depending on the coil resistance and wattage that you're using. This means that you can expect to vape for 2-3 days before having to recharge. The Xlim delivers superb performance for nicotine salts while still remaining easy to use, and that's enough to earn it a place on our list.
PROS
Adjustable wattage up to 25W
Nice range of MTL airflow adjustment
Great flavor from both pods
No leaking or dry hits from pods
Pods can be refilled 20+ times before performance drops off
CONS
Screen makes device look dated
No real difference between the 0.6Ω and 0.8Ω pods
---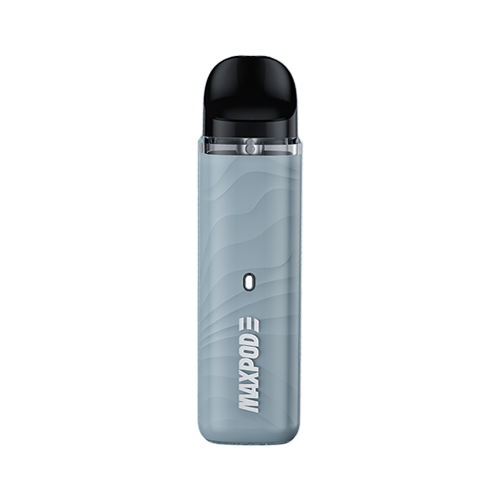 2ml Pods

480mAh Battery
Replaceable Pods
Draw Activated
It's one of the newest additions to our list but the Maxpod 3 has quickly become a favorite for nicotine salts. Freemax are known for their flavorful tanks and coils and now they've taken this same know-how and used it to create the Maxpod 3.
It's an easy device to get started with because it uses pods with built-in coils. When the pod is done (after 1-2 weeks of use) you simply replace it with a new pod. There are also no settings to adjust because the Maxpod 3 automatically sets the appropriate power output for the perfect draw.
The Maxpod 3 comes with one 0.8Ω pod that will hold up to 2ml of eliquid. There's no airflow adjustment but this pod delivers a tight MTL draw that is great as it is. There's also a 1.2Ω pod available which is sold separately. Both pods provide mouth to lung draws that are similar to a cigarette, but the included 0.8Ω pod more closely mimics the feeling.
When used with the included 0.8Ω pod, the high resistance and low output wattage of up to 15W will use less power than other lower resistance pod vapes. This means less ejuice used and longer battery life. The flavor and vapor quality from the Maxpod 3 are top-notch and set the bar for other nic salt vapes.
One thing we love about the Maxpod 3 is that the pods are transparent. This lets you see exactly how much ejuice you're filling and allows you to check on your ejuice level as you vape. Nobody wants a dry hit!
PROS
Small & light
Excellent for nicotine salts
Great MTL draw
Flavor is excellent
See through rim lets you see your ejuice without removing the pod
CONS
Only comes with 1 pod

---
2ml Eliquid Capacity

1000mAh Battery
Replaceable Pods
Draw Activated Firing
The Vaporesso XROS Nano was made with nicotine salt vaping in mind and it vapes like a champ. It's a direct competitor to Uwell's Caliburn series of devices and, in our testing, it performs at a similar level.
The XROS Nano improves on all of the already great aspects of other nic salt vapes and features an adjustable airflow slider that lets you achieve anywhere from a loose MTL draw to a very tight MTL draw. The flavor is also well above-average. All around, the XROS Nano is a super portable and very user friendly nicotine salt device.
The pods for the XROS Nano are easily refillable and will hold up to 2ml of ejuice. The pods are easily removable and they attach to the battery magnetically. The XROS Nano comes with two pods that are perfect for nicotine salts: a 1.2ohm pod and a 0.8ohm mesh pod. The XROS Nano also has a respectable 1000mAh battery and features Type-C charging for fast charge times.
Leak free, easy to use, and discreet, the XROS Nano is a prime pick for beginners, or even experienced vapers looking for a simple device that works reliably.
PROS
Great flavor and draw from 0.8Ω pod
Very flavorful pods
Easy to use for beginner vapers
Good pod life
Can view ejuice level without removing pod
CONS
MTL Draw from 1.2Ω pod is really tight
Fill cap can be difficult to remove
---
2ml Pods

800mAh Battery
Replaceable Coils
Draw Activated Firing
The Smok Novo 4 is a simple, no-fuss pod vape. It's small, light, and comes in 10 different designs including stabilizing wood and resin-like patterns. It's an easy device to use and the wattage is adjustable up to 25W. To vape, just inhale on the mouthpiece. 
The Novo 4 comes with two coils: a 0.8ohm mesh coil and a 0.8ohm round wire coil. Both coils work great for nicotine salts or regular ejuices. However, the mesh coil delivers stronger flavor while the round wire coil delivers more dense vapor.
Additionally, each coil will provide a slightly different draw. They are both meant for MTL vaping, but the round wire coil delivers a more restricted mouth to lung draw while the mesh pod is a looser MTL vape. You can further adjust the draw by turning the airflow adjustment dial. No matter which pod you use, the Novo 4 delivers excellent flavor and vapes like a champ.
If you're worried about leaking, don't be; the Novo 4 is designed to be leak-free. The pods are side filled for extra security and are built in a way that leaves nowhere for ejuice to leak from. The pods will hold up to 2ml of eliquid and are clear so it's easy to see your ejuice level.
Just like the Novo 2 and Novo X, the Novo 4 packs the same, respectable 800mAh battery. This translates into 2-3 days of heavy vaping or longer if you're a moderate vaper. The battery can be recharged quickly using the Type-C port for minimal downtime. 
For anyone seeking a user friendly vape for nic salts, the Novo 4 is an excellent choice.
PROS
Good for MTL vaping
Excellent build quality
Flavor from both coils is very good
Good battery life
Long coil life
Airflow adjustment dial is good for MTL
CONS
Airflow dial is hard to adjust
Pods aren't backwards compatible
---
2ml Eliquid Capacity

450mAh Battery
Replaceable Pods
Draw Activated Firing
The Vaporesso OSMALL 2 is a small pod-style nicotine salt vape. It's one of the easiest to use devices out there but it still performs at a high level. This super portable nic salt vape is draw activated and delivers some of the best flavor and performance available.
The OSMALL 2 comes with a 1.2ohm pod in the package. This 1.2ohm pod works best for high strength nicotine salts between 30-50mg but it can also be used effectively with lower strength nic salt ejuices. It's also great for regular nicotine ejuices between 3-12mg strength. This pod gives a nice slightly restricted MTL draw that is not too tight or too loose; it's nicely in between.
The mouthpiece on the pod is a duck bill shape that  is very comfortable to use. Each pod will hold up to 2ml of eliquid and uses a deep silicone stopper to plug the fill port. The OSMALL 2 is also compatible with pods from the original OSMALL.
The OSMALL 2 has a built-in 450mAh battery and recharges using a Type-C port for quick recharge times; it takes just about 45mins to fully recharge. All-in-all, the OSMALL 2 is certainly one of the best vapes for nicotine salts to be released in 2022.
PROS
Light and portable
Good MTL draw
Easy to use for beginners
Good flavor from new 1.2Ω pod
Inexpensive (~$16)
CONS
Comes with only 1 pod
No LED indication of when battery is dying
Draw gets much weaker as battery dies

---
What Makes These Devices The Best Vapes For Nicotine Salts?
Not all devices or tanks are meant to vape nicotine salts. In fact, most devices and tanks aren't. The main reasons these devices are perfect for vaping nicotine salts is because of their high coil resistance and low wattage output, which results in a smooth draw. Other things that make the devices on our list perfect for vaping nicotine salts:
Simple and easy to use

Low eliquid consumption (will save you eliquid)

Low power (won't deliver too much nicotine)

Easy to maintain

Mouth to Lung (MTL) draw (perfect for those transitioning to vaping)
---
What are Nicotine Salts?
Nicotine salt is the same type of nicotine that you would find naturally in tobacco leaves. It isn't possible to vape this form of nicotine by itself without extremely high temperatures, but the researchers at Pax Labs (the creators of the JUUL) discovered a solution — benzoic acid.
By carefully considering the conditions in which the nicotine salt would be vaped, such as temperature, the researchers at Pax Labs used benzoic acid to create a nicotine salt ejuice that delivers a high concentration of available nicotine that is more easily and readily absorbed into the bloodstream.
Benzoic acid also serves another important purpose in nicotine salts. While unpaired nicotine salts are naturally high in pH (acidic) and thus produce vapor that is harsh to inhale, benzoic acid reduces the pH of the nicotine salts while still providing a large amount of available nicotine.
The end result is a more satisfying vape, without the harsh throat hit that you would get with high strength freebase nicotine ejuices.
---
Benefits of Nicotine Salts
More nicotine that is more quickly absorbed into the bloodstream: Compared to traditional freebase nicotine, nicotine salts deliver much more nicotine into your bloodstream much more quickly. This means that you'll satisfy that nicotine craving a lot faster than you would using traditional freebase nicotine eliquids.
Smoother hit at higher nicotine concentrations: Unlike the harsh throat hit from a high nicotine ejuice, nicotine salts deliver all the nicotine you need but in a smooth hit that doesn't hurt.
You'll use less ejuice, and save more money: Because nicotine salts have a higher concentration of nicotine that is more quickly and more easily absorbed when compared to freebase nicotine ejuices, you'll use less juice to get satisfied. In turn, you'll be vaping less and going through less juice — it's a win-win!

You don't need an expensive/powerful mod: Because nicotine salts are best vaped at lower wattages, you don't need to have the most expensive or powerful mod in order to get the most out of them. A device like the Caliburn A2 is great for nicotine salts and it fires at just 15W.
---
Are Nicotine Salts Safe?
From all of the information that we currently have available, nicotine salts appear to be as safe as traditional freebase nicotine. Because the nicotine will affect the body in the same way, there appears to be no difference in risks and effects.
However, there is one key difference from freebase nicotine eliquids, and that is benzoic acid. While benzoic acid is generally recognized as safe for ingestion and has a very low toxicity (benzoic acid occurs naturally in many foods such as: cranberries, prunes, plums, cinnamon, ripe cloves, and most berries), there isn't much research concerning inhalation.
Despite this, nicotine salts are still going to be a much safer option than smoking cigarettes. If you're currently struggling to stick with vaping traditional ejuice, you should still give nicotine salt ejuices a try.
One way that nicotine salts may possibly be safer than traditional freebase nicotine eliquids is that you inhale less vapor. Because you're getting more nicotine with each draw, you won't be vaping as much.
For more information, check out our full guide to nicotine salts.
---
Let us help you
Have a question or a comment? Need help? Even if you just want to share your love for vaping. Send us an email! We would love to hear from you!