Reduce or eliminate your nicotine intake with these tried-and-tested nicotine-free vapes
There are plenty of reasons to cut down, or remove nicotine from the vaping equation altogether. Whether you have a pang of guilt, don't want to be a slave to a habit, or for personal reasons you want to quit nicotine for good, retiring your vape might seem like the only way to go. But is it?
The good news is that you don't have to quit blowing clouds to quit intaking nicotine. There are plenty of great nicotine-free vapes out there that will allow you to keep enjoying the great flavors that vaping offers, without the guilt of nicotine. Today we will show you what they are all about and also offer some great insights into reducing your nicotine intake.
To make the transition easier, we've put together this list of the best nicotine-free vapes in 2023. These devices and ejuices have all been selected based on their flavor, performance, quality, and availability, so that you can have the greatest chance of successfully eliminating, or reducing, your nicotine intake.
---
Best Nicotine Free Disposables
Vaportech's Cube Zero disposables were created specifically for vapers looking to cut down on their nicotine intake. They are completely nicotine-free and deliver performance that is just as good as the next disposable vape. Cube Zero disposables are available in 15+ flavors, including fruit, tobacco, and menthol.

SAVE 10% USING CODE "VERSED"

CHECK PRICE



Why Trust Us
All of our buyer's guides and reviews are based on market research, expert input, and practical experience with the products we include. This way, we offer genuine, accurate guides to help you find the best picks.
Learn more
---
Vaportech's Cube Zero disposables were created specifically for vapers looking to cut down on their nicotine intake. These nicotine-free disposables deliver performance that is just as good as the next disposable vape, and the smooth nicotine-free vapor is super enjoyable. The Vaportech Cube Zero will provide a nice mouth to lung draw that ex-smokers, and vapers in general, will enjoy.
These are available in 15+ flavors, including fruit, tobacco, and menthol flavors. Each Cube Zero provides 3000 puffs of nicotine free flavor and features adjustable airflow and long-lasting flavor. You'll get rich and cloudy vapor right from the first draw — and you won't have to feel guilty about it either. As these are disposable devices, there's no need to refill them. Simply vape them until the flavor and vapor starts to drop off and then throw them away. 
For a simple and effective nicotine-free vape, the Vaportech Cube Zero is a device that doesn't disappoint.
Get 10% off your entire order
USE CODE "VERSED"
---
Fire Float Zero disposables are one of the best nicotine-free vapes available. They come filled with 8ml of ejuice which will get you up to 3000 puffs per disposable. Because there's no nicotine, the draws are super smooth and nowhere near as harsh as some other disposables can be. The mesh coil delivers excellent flavor and the clouds are no slouch either.
Fire Float Zero disposables are available in 12 different flavors. They offer fruit flavors, fruit/menthol flavors, and even a candy flavor. There's a little bit of something for everyone.   If you're looking to fulfill that "hand-to-mouth" motion but without the nicotine, the Vaportech Cube Zero is the way to go.
Get 10% off your entire order
USE CODE "VERSED"
---
Instead of enjoying the effects of nicotine, why not enjoy the positive effects of CBD? Avida's CBD vape pens are made with hemp extracted CBD isolate and they contain zero nicotine. All of their CBD vape pens are made in the USA and are good for approximately 300 puffs. Avida uses 3rd party lab testing to ensure the safety, purity, quality, and consistency of their CBD vape pens meets or exceeds industry standards.
All of their CBD vape pens contain 100mg of CBD isolate housed in a 1ml vape pen. These nicotine-free CBD disposables come pre-filled and ready to vape — perfect for those looking to reduce their intake and perfect for taking with you on-the-go. 
They carry 5 delicious flavors to choose from including Blue Razz, Berry Grape, & Chilled Kiwi Strawberry. They also carry a flavorless option.
Avida's CBD disposables come fully charged and will last for a few hundred puffs. These zero nicotine pens also contain no detectable levels of THC so you won't get high. What you will get are the immediate wellness effects of CBD and a guilt-free vaping experience.
---
Best Nicotine Free Ejuices
Pachamama makes some of the tastiest fruit ejuices around and most of them are available with 0mg nicotine. These premium ejuices deliver natural, sweet fruit flavors for a smooth and satisfying vape that can be enjoyed nicotine and guilt-free.

CHECK PRICE


---
Pachamama makes some of the tastiest fruit mixes you'll ever try. Their variety is unmatched and they have unique mixes that you won't find anywhere else — you're almost guaranteed to find one you love. The best part? Most are available with zero nicotine. These premium ejuice mixes deliver natural and taste-bud-exciting flavors that are made all the better when they're enjoyed guilt and nicotine-free. 
Fuji is one of their most popular flavors. Fuji apples are the star of the show and the flavor is smooth and strong without being too overpowering. You'll taste hints of strawberry flavor on the inhale, accompanied by tropical nectarines on the exhale.
Pachamama makes absolutely delicious nicotine-free ejuices that set themselves apart from the crowd with their poppin' flavors. Grab a bottle and give them a try. You won't regret it!
Get 10% off your entire order
USE CODE "VERSED"
---
Vapetasia's ejuices have won a number of awards and with good reason; they're some of the most flavorful and most popular ejuices around. Unlike a lot of other ejuice companies, Vapetasia specializes in dessert flavors so these are going to be the best ones to get. However, they also have fruit and menthol flavors available. Most of Vapetasia's ejuices are available in 0mg nicotine strength and, since these are less popular than their nicotine-containing counterparts, they are usually in stock.
Killer Kustard is Vapetasia's most popular ejuice. It's a creamy vanilla custard flavor with the perfect balance of vanilla and custard. It has a strong rich taste, and a smooth inhale/exhale. In addition to their original Killer Kustard, there are also many variations available like Blueberry Killer Kustard, Strawberry Killer Kustard, and more.
If you're feeling adventurous, or just like a good dessert ejuice flavor, Vaptasia's ejuices are a great way to enjoy dessert without the nicotine — or the calories.
Get 10% off your entire order
USE CODE "VERSED"
---
Juice Head offers a long line of premium, fruit-flavored eliquids that will have your sweet tooth begging for more and they are available without nicotine. These flavors include their original line of ejuices like Peach Pear, Watermelon Lime, and Pineapple Grapefruit that have been a hit ever since they were released. You can get Juice Head ejuices in 30ml or 100ml sizes but you'll probably want the 100ml — they're so good, you'll be thankful you bought a larger bottle.
Juice Head's fruit flavor combinations are created with superior, distinct flavors and are enjoyable as day-long vapes. One of their must-try flavors is Strawberry Kiwi. It's a combination of strawberries and tart, tasty kiwi that is absolutely true to flavor. Other notables are their Blueberry Lemon, and Guava ejuices. There's no doubt about it — Juice Head makes some of the best nicotine free ejuices of 2023.
Get 10% off your entire order
USE CODE "VERSED"
---
Best Devices for Vaping Nicotine-Free Ejuice
The Freemax Maxus Solo kit comes with one of the best vape mods, as well as one of the best vape tanks of 2023. It's an excellent kit to vape your nicotine-free ejuices with because you'll get great flavor and clouds from the Fireluke Solo tank, and steady reliable performance from the Maxus Solo mod. No matter the ejuice ratio or nicotine strength (or lack thereof), the Maxus Solo kit is a solid kit to vape it with.

CHECK PRICE


---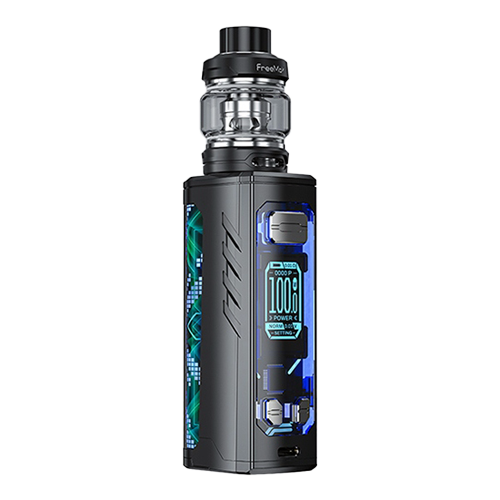 The Maxus Solo kit comes with one of the best vape mods, as well as one of the best vape tanks, and it's an excellent device to vape your zero nic ejuices with. The main reason that it's so good comes down to the tank. The Fireluke Solo Tank is extremely flavorful and excels at vaping all types of ejuice, no matter the PG/VG ratio or nicotine strength. This goes for nicotine free ejuices, too. 
The Maxus Solo mod works like a dream and can fire reliably at up to 100W. This gives you plenty of room to play around and find a wattage that you like to vape. The included coils are best used at 80W but going a little lower or a little higher to find what you like is perfectly fine and they perform well at a wide wattage range.
A big plus for this kit is that it includes a SS316L coil which can be used with the temperature control mode on the Maxus Solo mod. This allows you to further tailor your zero nic vaping experience by finding a temperature that you like vaping at and staying there.
You get all of the modes that you could need with the Maxus Solo mod, and the Fireluke Solo tank can hold up to 5ml of your favorite nicotine free ejuice. For anyone looking for a mod and tank setup to vape their zero nic ejuice, the Maxus Solo kit is the one.
Get 10% off your entire order
USE CODE "VERSED"
---
The Drag S Pro is a powerful and versatile device that works just as well with nicotine free ejuices as it does with regular ejuices. It has a built-in 3000mAh battery and features adjustable wattage up to 80W; plenty of power to get good flavor and warm vapor. It also has a bright, full-color screen that neatly displays essential vaping information. The Drag S Pro features both draw and button activated firing so you can vape however you prefer. It also has an airflow control ring that can be used to open or restrict the airflow.
The flavor and performance are similar to that of a box mod and tank, but the Drag S Pro is smaller, more portable, and more convenient. The design is modern and stylish and the build quality is top-tier. The Drag S Pro is available in seven different colors.
The Drag S Pro comes with a 5.5ml pod and two coils: a 0.3ohm coil rated for 32-40W and a 0.15ohm coil rated for 60-80W. These coils are ideal for nicotine free ejuices. Both coils deliver impressive flavor and nice, warm vapor. In addition to these two coils, the Drag S Pro is compatible with Voopoo's entire line of PnP and TPP coils. There are 13 coils available, including an RBA coil.
The Drag S Pro has numerous built-in safety features including overtime, short-circuit, overcharge, over-current, over-discharge, and over-temperature protections. If you're a direct lung vaper who wants massive flavor and clouds without having to lug around a box mod and tank, the Drag S Pro is an ideal  device for vaping nicotine-free ejuice.
Get 10% off your entire order
USE CODE "VERSED"
---
The Nord 50 is another great device in the Nord lineup and it's received some massive upgrades that make it the best Nord device yet. The Nord 50 features adjustable wattage up to 50W and comes in 15 different color options. It also houses a massive 1800mAh battery that is guaranteed to get you through a day of heavy vaping. Plus, it features Type-C quick charging so you won't ever be without it for too long. 
Another great thing about the Nord 50 is that it comes with two pods and two coils. Right out of the box you can fill two different ejuices and simply swap the pod to vape a different flavor. The 4ml and 4.5ml pod capacities are huge and this means that you'll spend less time filling and more time vaping. 
The Nord Pod comes with a 0.6Ω coil. This coil works great for zero nicotine ejuices and will provide a moderate draw with good flavor and moderate clouds. The LP2 Pod comes with a 0.23Ω coil that is even better for zero nic ejuices and this coil will provide excellent flavor and large amount of vapor. The Nord 50 is also compatible with SMOK's RPM pod and coils.
The airflow adjustment switch on the Nord 50 is also extremely useful. There is a single airflow adjustment switch on the back of the device which can be adjusted to suit the coil and ejuice that you're using. Whether you want a MTL draw or a DL draw, you can get the airflow exactly how you want it.
Its excellent flavor, long battery life, and versatile airflow make the Nord 50 a great device for vaping your nicotine free ejuices.
Get 10% off your entire order
USE CODE "VERSED"
---
What is a nicotine-free vape?
A nicotine-free vape is any vaping device that uses ejuice that does not contain nicotine.  Some examples of nicotine-free vapes are a disposable vape that does not contain nicotine, a pod vape that uses ejuice without nicotine, and a vape tank that uses nicotine-free ejuice. 
The term "nicotine-free vape" can be confusing because many nicotine-free vapes can also be used with nicotine.  For example, a pod device filled with nicotine-free ejuice is a 'nicotine-free vape'. However, you can also fill this same pod device with nicotine-containing ejuice if you so wish.
With the above in mind, only disposable vapes and ejuices that contain no nicotine are 'true' nicotine-free vapes, but other vapes like tanks and pod devices can also be nicotine-free vapes if you fill them with nicotine-free ejuice. 
---
How to go nicotine free: 7 great methods for nicotine reduction
If you are looking to reduce or quit nicotine altogether, it can be easier said than done. Until now. There are a few techniques that work really well to go nicotine-free. Here are some of the best methods to get your vaping experience nicotine-free. We'll also give you the pros and cons of each method.
Complete cold turkey
Listen, we get it. You are one of those people who are full-on — all or nothing. It's OK. We admire a little commitment and dedication. The cold turkey approach isn't the easiest method out there, but provided you can get over the initial first 'hump,' it's plain sailing from there on in. This method is by far the simplest. It also happens to be the hardest.
All you need to do is pick up a bottle of nicotine-free ejuice, and you are good to go. You might notice a significant difference between your 'old' nicotine-laden vape and the new one. What most find immediately obvious is the lack of throat hit and feeling of 'reward'. Don't worry, yhat's just your brain messing with you. Nicotine stimulates a similar part of the brain to dopamine, the chemical that gives feelings of pleasure. So it's understandable that it starts to miss that instant 'hit'.
Our advice? Stick with it. It is estimated that you'll hit your 'peak' of nicotine cravings at around day 3. The good news is that if you can last over 3 weeks, you can expect to have significantly reduced nicotine cravings.
Benefits of this method
It's quick to implement
You get a real sense of reward if you achieve it
You'll notice the difference instantly
Super smooth airflow
Gorgeous design
The downsides
Potential for strong cravings
Increased irritability and difficulty concentrating
It is a big change over a short period of time
The gradual reduction approach
Don't fancy going instant 'cold-turkey'? We don't blame you. You wouldn't train for a marathon by going for a 26-mile run straight away. Small steps, little and often, are the best way to get up to speed. The end result is the same. It just might take a little more time.
Look at it this way; which, for you, holds the most benefit? Going into full hard quit mode, with a 50/50% chance of it working (along with all the negatives we gave above)? Or, taking the time to chip away at that nicotine mountain with the guarantee of success? The latter, right? For us, this is one of the most effective ways to go nicotine-free, and if you do it right, it isn't that big of a deal.
It works like this. Each time you buy a bottle of Ejuice, try and go 1mg down on the nicotine level. See? Small steps. The change is really gradual and almost unnoticeable. If you use strong juices (like 18mg), your journey will take longer than if you used 6mg. 
If you feel the change a little too keenly, spread your nicotine downgrade to a 1mg reduction every 2 or 3 bottles. Remember above how we said it takes around 3 weeks to stop feeling increased cravings. By this time, and by going slowly, your body will adapt to the lower nicotine level before reducing it again.
Benefits of this method
It is pretty much guaranteed to work
It takes the edge off cravings
Less of the cold turkey feelings
The downsides
It can take a significant amount of time
There is a temptation to 'stick' when the nicotine gets really low
Potential for increased use to counteract the low nicotine
Day-on, day-off method
If you are a gym goer, you'll already appreciate that sweet feeling you get when a hard workout ends, and you know the next day is your 'cheat day'. Well, if it works for building consistency in the gym, it is also bound to work for vaping. This technique is a winner to going nicotine free. It looks something like this:
You alternate days between having nicotine and having none. Day 1 full strength vape, day 2, nicotine-free. Repeat. Effectively, over a week, or whatever period you name, you are effectively halving your nicotine intake! Once it becomes 'normal', you can increase your 'off' days. Go to a ratio of 2:1; 2 days nic-free, 1-day full strength. Still working? Go 3:1, then 4:1… And so on.
Over time you'll eventually reach a week and by that point, you'll have broken the back of nicotine cravings. You might feel strong enough to go full quit mode from then on!
Benefits of this method
Reduction of cravings
It is highly effective
Relatively quick way to quit
The downsides
The possibility exists to 'cheat'
It requires strict dedication
It can be hard to keep track (we advise logging it in a diary)
Blind taste test aka the placebo method
You might want to go nicotine-free, but your brain has other ideas… Damn, you scumbag brain! Listen, if you are the kind of person who just can't convince yourself that nicotine-free vaping is better. It's time to take your brain out of the equation. We stumbled on this method when we made a mistake and forgot to add nicotine to one of our DIY ejuices and we didn't get a craving once, so it works. 
Yep, placebos are a thing. It is possible to trick your brain. Here's what you do. Buy two bottles of ejuice. One without any nicotine and one with. (It may help if you buy a nicotine strength a little below your 'usual). Take the labels off and make those bottles identical. The aim is to randomly select a bottle each day. Some days you'll get nicotine, and some days you won't. We are willing to bet without the visual clues normally present on the bottle, you'll struggle to tell the difference. Voila, you've halved your nicotine intake.
Want to go a step further? Repeat this process when the two bottles are spent, but go significantly lower on your nicotine. Now, keep reducing it. Eventually, you'll find no difference in which bottle you choose.
Benefits of this method
It is really effective
You'll train your brain to be nicotine-free (even if it doesn't realize it)
You'll avoid the worst of the cravings
The downsides
Buying two bottles at a time can get expensive
You may subconsciously opt for the nicotine bottle (aim to use them at the same rate to prevent this)
Again, this takes a little time
The ONVAD method
As former smokers, we are the first to appreciate that the day's first cigarette was the best one. Now we say this: get behind me, stinky cigarettes! Jesting aside, we know how keenly vapers miss that first vape of the morning. So, here's what you'll do — make a deal with yourself. We call it the ONVAD method (One Nicotine Vape a Day).
You get five (AND ONLY FIVE) draws on your full-strength e-cig in the morning. And, from there on in, you agree that for the rest of the day, you will vape zero nic only with NO exceptions. The first vape of the day will take the edge off and from there, it is all down to you.
Once you start getting used to the idea, you can gradually reduce your number of pulls. First four, then three, and so on over time until you don't actually need the nicotine vape and can puff away on nicotine-free. Feel free to use your nic-free vape instead of your nicotine vape in the morning. You'll hardly notice the difference!
Benefits of this method
Very effective
It's quick
It significantly reduces your nicotine intake from the get-go
The downsides
Mornings + nicotine craving = grouchiness
It requires a little willpower
You'll need to separate vapes
Go sub-ohm
Nicotine salts can be great. No, really, we love them.
However, the main reason is that they have something other juices don't. Loads of nicotine. And that's what you are trying to cut out, right? Now, you can try and go lower on the nic, but the change is too much, right? Listen up. If you're a nic salt user, here's a way to significantly reduce your nicotine intake quickly.
Go sub-ohm. Sub-ohm vaping uses a direct-to-lung style with much bigger clouds. Because of the bigger clouds, you'll find that vaping high strength nic juices will be far too overwhelming. (We've vaped for years, and 6mg is still about as much as we can comfortably handle).
Once you've got through the transition period (3mg is a great place to start sub-ohm vaping), it is only a small step to reducing your nic to zero.
Benefits of this method
It is quick and effective
You get to really taste the flavor of your ejuices
It isn't as hard as some other methods
The downsides
There may be a tendency to 'stick' with nicotine ejuices
Big clouds aren't to everyone's taste
It may require an entirely new vaping device (although there are some great deals to be had out there)
The combination approach: what works for you?
Having read our list of techniques to go nicotine-free, are there some things you like and others you don't? Don't worry. We aren't offended, and we know it's hard.
Our final method to quit nicotine in vapes is to adopt a multi-pronged approach. All of the above methods can be mixed, matched, and combined to give you a good result so why not try a combination? Here are some examples:
Go sub-ohm and use the ONVAD method.

Try gradual reduction and the placebo method.

Give day on day off a whirl with sub-ohm, then mix it with the placebo method.
Our point? All the above are really effective, and you are the only person with the willpower to go nic-free. Why not try them all? See if you can identify trends and see what works for you.
---
Why vape nicotine-free? The benefits of vaping 0% nicotine
There are a few reasons to go nic free in your vape. Nicotine itself is not harmful (at least, no more than caffeine). However, it is addictive. And, being honest, nobody really wants to be a slave to an addiction. The beauty of vaping is that you still get the overwhelming majority of enjoyment and benefits without nicotine. Here are some great reasons to give it a go!
It's smoother!
We 100% absolutely, positively guarantee that the first time you try a nicotine-free vape, you'll enjoy how smooth it is. If you've ever given a friend a quick blast on your vape, the first thing they'll do is cough. "It feels weird on my throat." Yeah, you don't get that with nicotine-free vapes. Instead, you'll be able to take a long hit and enjoy a silky smooth draw that is packed with flavor.
Nicotine-free vaping is non-addictive
Want to know a secret? At least a third of the US has a secret addiction — caffeine. Yup, that's right, 68 million people drink three cups daily! With an estimated 3 out of 4 being chemically addicted.
Being addicted and having your day dictated by anything isn't fun. By going nicotine-free, you can wriggle yourself off that addicted hook. The only addictive element of vaping is nicotine, so if you can kick that into touch, you'll be able to pick when you choose to indulge.
It's a step to quitting (completely)
Giving up anything gives a real sense of reward. There are also several other reasons why you might want to quit vaping altogether. These might include: –
Social/family pressure

Cost

Employer requirements 

Accommodation/housing regulations

Personal choice
Whatever the reason, you can be sure of one thing: nicotine-free vaping is easier to quit. Nicotine is chemically addictive, meaning your brain becomes hard-wired to want it. The act of vaping itself isn't addictive, no more so than drinking a certain flavor of soda.
Giant clouds!
Suppose you read our guide to quitting above. In that case, you'll have seen we suggested sub-ohm vaping as a great way to reduce or eliminate nicotine. You'll find that nicotine-free vaping is less harsh on your lungs and throat. As a result, you can take a really deep draw. If cloud chasing is your thing, nicotine-free is the way to go. 
Coincidentally, many competitive cloud chasers vape nic-free for precisely this reason. Check out what they can do… amazing, right?
Nicotine-free vaping is cheaper
Let's keep it real. If you have a genuine nicotine addiction, the cost of those little bottles does start to add up. If you go zero nicotine, you'll be saving in a couple of ways: 
Ejuice will be less expensive

You'll vape less as you won't crave it quite so much, meaning less juice used.
Zero nicotine and cash in your pocket? What's not to love?
Taste the flavor
You'll find, with most DIY juice recipes, no correction is applied for the inclusion of nicotine. If you are vaping strong ejuice, it will act as a dilutant. In short? Your juice does taste a little weaker than its 'virgin' form. Nicotine can have a slight 'bitter' taste. Once you get used to the idea, you might find that some ejuices are actually improved when vaped in their unadulterated form.
---
What is in a nicotine-free vape?
Nicotine-free vapes have the same bases (PG and/or VG) and the same flavorings as nicotine-containing ejuices, only they do not contain nicotine. With that said, there are not that many ingredients in vape juices. In fact, many are surprised to learn how few ingredients go into making your standard bottle of e-juice. Vaping liquid contains the following ingredients:
Food flavorings

A base (propylene glycol and/or vegetable glycerin)
That's literally it!
But what are propylene (PG) and vegetable glycerin (VG)? In short, syrupy sugar water, but they are used because both PG and VG act as bases to carry the flavorings in your ejuice. Each one has distinct properties that contribute to a slightly different vaping experience depending on how much of each one is used. 
Propylene glycol is a watery liquid that is responsible for the 'throat- hit' that you feel when you inhale. PG is also great at carrying and suspending flavors in your eliquids, much better than VG. Because of these two qualities, PG sees wide use in most eliquids and usually makes up at least 50% of most eliquid bottles. 
VG, on the other hand, is a viscous liquid that is responsible for producing the large amount of vapor or clouds when you vape. 
You'll find both PG and VG used in various household products, all of which have been deemed safe for human consumption.
Such as? 
Well, seeing as you asked, you'll find PG and VG in:
Ice Cream

Jello

Jellies and Preserves

Yogurt

Candy

Chewing Gum

Cheese

Cereal

Soft Drinks

And many more…
In addition to PG and VG, nicotine-free vapes and ejuices also contain flavorings. These are concentrated natural and artificial flavorings that are used to recreate the tastes of your favorite fruits, beverages, and desserts. The flavorings that ejuice manufacturers use are considered 'food-grade', meaning ther are safe for consumption. However, it's worth noting that the full effects of inhaling these concentrates are not fully understood.
---
Is nicotine-free vaping better?
To nic, or not to nic? That is the question. Whether nicotine-free vaping is 'better' boils down to personal opinion. While nicotine is addictive, it isn't actually the harmful element found in cigarettes. By vaping nic free, you can be sure that you won't become addicted. However, the health benefits/risks of nicotine vs. non-nicotine vaping are essentially the same!
As you'll have seen, there are plenty of plusses to nicotine-free vaping with very few (if any) downsides. Why not give it a go and see for yourself?
---
The bottom line
Our list of the best nicotine-free vapes should set you on the right path to vaping freedom, if you so choose. Combined with our strategies for nicotine reduction, there is no reason not to try it. Why not combine a new nicotine-free vape with an effective method and see how it works? A little willpower goes a long way! Happy vaping!