Build more easily and get better flavor with these highly rated RDAs 
You may have heard about RDAs and have decided that you want to get one. Or maybe you've heard the term RDA, but aren't quite sure what they are. Either way by the end of our list of best RDAs in 2022, you'll have the answers that you're looking for.
Below you'll find a list of the best RDAs available. These RDAs have been selected based on their ease of use, vapor production, flavor intensity, build quality, and overall experience.
---
Best RDAs in 2022: The Best RDAs For Clouds & Flavor
The SRPNT is a 24mm dual coil RDA that is easy to build on. This RDA will work just as well with a single oversized coil as it will with a dual coil build, and the domed chimney and airflow set up maximizes flavor. For flavor chasers, the SRPNT RDA is the leader of the pack and it will produce plenty of clouds, too.

CHECK PRICE



Why Trust Us
All of our buyer's guides and reviews are based on market research, expert input, and practical experience with the products we include. This way, we offer genuine, accurate guides to help you find the best picks.
Learn more
---
The SRPNT RDA is a revamped and improved version of the legendary Serpent BF RDA. This dual coil RDA features a build deck that is very easy to build on, and it will work just as well with a single oversized coil as it will with dual coil builds. Included in the box is a 5mm ID coil for a single coil build, as well as two 3mm ID coils for a dual coil build.
For airflow, the SRPNT RDA has four small airflow holes on each side of the tank. These are arranged in two rows of two holes. The top cap has a series of different sized holes cut into it that align with the holes on the body cap, and this gives you the option of many different airflow setups.
There is one set of four 1.9mm holes, one set of four 1.6mm holes, and one set of two 1.9mm holes. Turning the top cap allows you to achieve the following airflow setups:
Four 1.9mm holes
Two vertical 1.9mm holes
Four 1.6mm holes
Two vertical 1.6mm holes
Two horizontal 1.9mm holes (bottom row)
One 1.9mm hole (bottom row)
The set up of the build deck directs airflow straight to your coil(s) and, along with the domed chimney, maximizes the flavor from this RDA. The juice well is decently deep, so you can squonk or drip without having to worry about leaking or flooding. The SRPNT RDA includes a bottom feeding 510 squonk pin so that you can squonk right out of the box.
The SRPNT RDA was made with versatility, flavor, and ease of building in mind and comes from the maker of some of the best rebuildable tanks in the vaping industry. If you're after flavor then the SRPNT RDA won't disappoint you.
---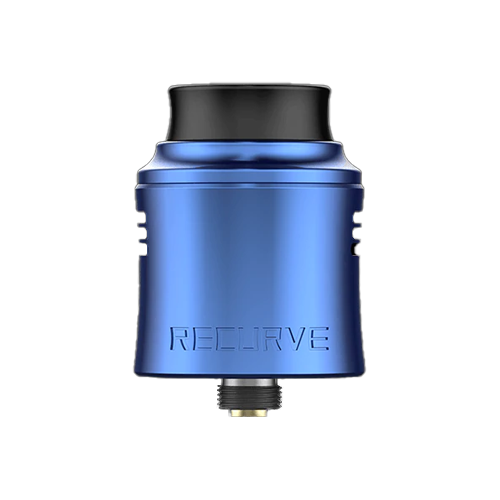 The Recurve V2 is a collaboration with Mike Vapes and it's one of the best RDAs out. It's the successor to both the Recurve RDA and Recurve Dual RDA and comes with a few changes that make it the best Recurve yet.
The Recurve V2 features a four terminal, postless build deck that can accommodate either single or dual coil builds. It also comes with two airflow inserts. These airflow inserts each have three rows of 5 airflow holes, but they differ in the amount of space that they leave on the build deck. One insert is for single coil builds and leaves less space on the deck, while the other insert is wider and meant for dual coil builds. It's essentially two RDAs in one.
The top cap is stepped and allows you to adjust the airflow by rotating it. You can close off the top row of airflow holes and leave the bottom two rows open for a slightly restricted draw, or close the top 2 rows of airflow holes and leave just the bottom row open for a very restricted draw.
The Recurve V2 is an equally great performer with single coil builds as it is with dual coil builds and the airflow inserts make a world of difference. As long as you use the single coil insert for your single coil builds, you'll get flavor that is just as good as a dual coil build. 
The build deck is quite spacious and can accommodate dual 3mm ID coils or up to a 5mm ID single coil. The build deck is also concave and channels ejuice back to your wicks. 
A great design feature is the extremely deep juice well. It will hold 2ml of ejuice which means that you can drip or squonk liberally without worry of flooding or leaking. When you do squonk, there are channels that lead directly from the central squonk pin and straight to your cotton for efficient wicking.
If you like the idea of having a single, very flavorful tank that can do both single and dual coil builds, we highly recommend picking up the Recurve V2.
---
The Geekvape Z RDA is Geekvape's latest RDA. If you've used the Geekvape Zeus X RTA then you'll be familiar with the build deck. There are two bridged posts with a total of four terminals. This allows you to build either single or dual coil builds, however the Geekvape Z will perform best with a nice pair of beefy coils.
The airflow on the Geekvape Z consists of two odd looking airflow slots at the top of the tank. These airflow slots force airflow down to your coils, around the chamber, and then back over the coils and out through the drip tip. This gives the Geekvape Z the flavor of a bottom airflow tank, but with the leak-resistance benefits of a top airflow RDA.
As we mentioned earlier, the Geekvape Z RDA keeps the same 2 post build deck as the Zeus X RTA. The post holes allow plenty of room to fit exotic coils and large gauge wire builds. The juice well also gives plenty of room to drip without worry of flooding.
The Geekvape Z RDA delivers flavor and performance that is absolutely top notch. It comfortably claims its place as one of the best RDAs of 2022.
---
As functional as it is beautiful, the Dead Rabbit V3 is a dual coil RDA produced by Hellvape. It's the successor to the Dead Rabbit V2 and it's been given a few small upgrades to make it even better. The biggest change is the airflow. The Dead Rabbit V3 allows you to adjust between honeycomb and slotted airflow to better suit your vaping preferences. 
Like the original and V2, the Dead Rabbit V3 features a top-terminal, four-post build deck design that allows you to insert your leads without having to do any precise measuring. Simply drop your coils in and trim your leads from the bottom after securing them. Voila!
At 24mm in diameter, the Dead Rabbit V3 gives ample room for any single or dual coil builds and it also has a 4.5ml deep juice well. With gold plated terminals and side-mounted screws for securing your leads, this deck makes building a fair bit smoother and easier.
The airflow slots on the Dead Rabbit V3 are positioned to maximize flavor while minimizing leaking for a stress-free vaping experience. For squonking, the Dead Rabbit V3 also comes with a gold plated bottom-fed 510 squonk pin.
The Dead Rabbit V3 delivers such impressive flavor that it's a must have in any vapers RDA collection. Do yourself a favor and get one now because if you don't, you'll end up getting one later. Why wait? Once you try it there's no going back; the Hellvape Dead Rabbit V3 is hands-down one of the best new RDAs of 2022.
---
The Asgard Mini is a 25mm dual coil RDA made by Vaperz Cloud. It's got beautiful lines and precise machining that make it one of the best looking RDAs around. It has a spacious postless build deck with four large terminals for easy building. The large deck space will fit almost any dual coil build you want.
The airflow on this RDA is made up of 24 airflow holes per side, arranged in three rows of eight holes. By turning the top cap you can achieve more or less airflow and the holes funnel air directly to your coil. Whether you're looking for a tight or loose draw, this airflow lets you have it. 
The Asgard Mini also lets you drip liberally without worry thanks to its leak resistant deck design and 6ml juice well. For those who use squonk mods, the Asgard Mini is fully squonk ready and comes with a quick-release 510 squonk pin that makes switching from dripping to squonking quick and easy.
---
The Vandy Vape Rath is as versatile and forgiving as an RDA should be. It's a 24mm dual coil RDA and it features a unique and clever system, utilizing two spring-loaded ceramic electrodes. These electrodes are secured by side-mounted screws and there is plenty of space for those that like using bigger, beefier coils. While best used with dual coil setups, the Rath can also be used with just a single coil.
The Rath has a honeycomb style airflow cap that can be adjusted to your preference, with 15 airflow holes per side. This gives you a lot of different configuration options and allows you to find an airflow setting that is just right for you. When you inhale, airflow is directed through the holes and directly towards your coil which results in lovely, flavorful, thick and dense clouds.
The Rath RDA comes with both a standard 510 pin as well as a bottom-feeding 510 pin for squonking. Its 2ml deep juice well allows you to squonk or drip heavily without worry (always a good thing on an RDA). The design of the Rath and its flavor production are both top notch and you can definitely tell that Vandy Vape put a lot of time and effort into designing this tank. Now it's your turn to put some time into vaping it!
The aesthetics of the Rath are as amazing as its functionality and its superb flavor and squonk compatibility make getting it a no-brainer. For anyone looking for a great, flavorful RDA check out the Rath — you'll be pleasantly surprised, guaranteed.
The Requiem RDA is just 22mm in diameter and only 15mm tall. This small size concentrates your vapor and delivers a massive flavor boost. It comes with 3 top caps, each with a different drip tip; one for DL, one for RDL, and one for MTL. Perfect for all styles of vaping, the Requiem is a solid and versatile RDA.

CHECK PRICE


---
The Vandy Vape Requiem RDA is an extremely capable and versatile single coil tank. At just 22mm in diameter and 15mm tall, the Requiem's small size concentrates and enhances the flavor of your vapor. The build deck is very easy to build on and consists of two posts secured by sturdy Flathead screws.
The airflow options are the hallmark feature of the Requiem RDA because it can be used for any style of vaping. It comes with three top caps: one for direct lung vaping, one for restricted direct lung vaping, and one for mouth to lung vaping. 
Each top cap has a different drip tip and different airflow holes. Plus, you can twist the body cap to further adjust the airflow. With the Requiem, even the pickiest vapers will find an airflow configuration that satisfies them.  
The Requiem is great for squonking because the center squonking pin feeds ejuice straight to your wicks. You can squonk and immediately take a draw without the fear of dry hits. 
For its overall versatility, ease of building, and amazing flavor, the Requiem makes our list of the best RDAs 2022.
---
The Drop Solo V1.5 is a great single coil RDA. It's the follow-up and successor to the wildly successful Drop Solo RDA. The Drop Solo V1.5 retains the small 22mm diameter of the original  but now features a cleaner and more modern design. 
The build deck consists of two large posts. The two large terminals allow you to drop in your leads, secure them from the sides, and then trim your coil legs. This makes the Drop Solo V1.5 extremely easy to build on, even for a complete beginner to RDAs. This RDA also has a deep juice well which allows you to drip and squonk liberally.
The airflow on the Drop Solo V1.5 is fully adjustable and consists of two, medium-sized slots on each side of the tank. The airflow is relatively quiet and ultra-smooth. The airflow can be adjusted to provide anywhere from a direct lung draw to a restricted DL draw.
You get a standard 510 pin, as well as a bottom feeding 510 squonk pin with the Drop Solo V1.5.
---
The Nitrous is an RDA that can be used with both single and dual coil builds. However, you'll get the best performance using a single, large coil. 
This 22mm RDA is designed for maximum flavor and features a raised two post build deck. There are four terminal openings so if you're using a single coil you can use either forward or reverse wrapped coils. The raised build deck perfectly positions your coils with the airflow holes and this allows the Nitrous to deliver big clouds and intense flavor.
The airflow on the Nitrous is fully adjustable and consists of ten holes on each side of the RDA. You can close off just the top row of holes and leave the bottom row open, or close off both rows of holes at the same time. This gives you plenty of options for how you want the airflow and lets you achieve exactly the type of draw that you want.
The juice well on the Nitrous is a bit shallow at 1.5ml so you have to be careful not to over drip. For those of you who like to squonk, the Nitrous RDA comes squonk ready with a bottom-feeding squonk pin. The Nitrous is available in a variety of different colors and finishes and is a top pick for the best single coil RDA 2022.
---
While only recently released, the Augvape Alexa S24 RDA has already solidified its place as one of the best single coil RDAs available. This is a 24mm RDA and the small and low profile body of the Alexa S24 helps to concentrate your vapor. This results in very dense and flavorful vapor.
The Alexa S24 is meant for simple single coil builds, so larger complex coils may not fit. However, the Alexa S24 makes up for this lack of building room with its excellent performance.
On the build deck there are four terminals, allowing you to install either clockwise or counterclockwise wrapped coils. The terminal screws are top mounted so it's super easy to install and secure your coil. Wicking is similarly easy because you simply drop your wicks into the channels beneath the coil.
The airflow on the Alexa S24 RDA consists of two medium sized airflow slots; one on each side of the top cap. These airflow slots are positioned low on the body so they funnel air up, under, and then through your coil. This airflow design, paired with the small chamber of the Alexa S24, are the main reasons why it delivers such great flavor.
Of course, the Alexa S24 RDA also includes a bottom feeding 510 squonk pin. This RDA delivers stellar squonk performance all while giving you maximum flavor and great clouds. 
The compact design and light weight of the Alexa S24, along with its great flavor, are all good reasons to consider picking one up.
---
The Wotofo STNG is designed for use with bottom feeding squonk devices (it comes with a standard 510 pin however) and makes it on our list of the best RDAs for a number of reasons. Mainly, if you're looking for a flavorful single coil RDA, the Wotofo STNG delivers. It's also one of the best MTL RDAs that you can get.
The STNG's airflow design is what makes it so flavorful. Air gets funneled straight from the single airflow hole on the side of the tank and directed up through two holes in the middle of the build deck. This means that when you inhale, air hits your coil from underneath to deliver a tight, flavorful MTL draw that really outshines any competitors.
The deck on the STNG has an efficient squonking design that wicks coils effectively. This bottom-fed RDA also has an ample juice well that should be more than deep enough for those that over-drip or over-squonk. 
While this bottom-feeding RDA doesn't come in as many colors as some of the others on our list, it certainly performs at a top level. If you're looking for a great RDA that delivers a tight MTL draw, the Wotofo STNG is a prime choice.
Best Mesh RDAs 2022
Mesh coils are the new big thing in vaping with rebuildables. This is because mesh coils are able to produce more flavor and larger cloud density thanks to the increased surface area of the mesh. Not all RDAs are capable of using mesh, in fact, very few are. So we've rounded up a few of the best mesh RDAs currently available:
The Profile PS is a dual mesh RDA and it provides excellent flavor that is far above single mesh tanks. It features fully adjustable airflow and a deep 3ml juice well so you can drip or squonk liberally. The Profile PS can be run in either parallel or series configurations just by switching out the 510 pin.

CHECK PRICE


---

The Profile PS is an all new RDA by Wotofo and it's the first dual mesh RDA on the market. It's a large 28.5mm RDA that uses two mesh strips. Not only that, but the deck can be run in either parallel or series configurations just by switching out the 510 pin. This is great for running extremely low resistance coils. 
The build deck on the Profile PS is similar to other Profile RDAs, only it has room for two mesh coils. Your mesh coils get inserted into the side clamps, as well as into the central post in the center of the deck. The post in the center tightens the leads of both mesh coils at the same time. There are side mounted Phillips head screws to tighten the clamps on the sides. There are also two white peek insulator plates with springs. These help keep your cotton tight and pushed up against your mesh coils to prevent dry hits.
The deck has a really deep juice well; 3ml deep to be exact! This is amazing for those who over drip or over squonk like myself and ensures that ejuice won't come spilling out if you get a little overzealous.
The airflow on the Profile PS consists of three slots on opposite sides of the barrel for a total of 6 slots. The middle slot is slightly wider than the top and bottom slots. Adjusting the airflow is done by rotating the top cap. 
When the airflow is wide open there are 16 holes on each side of the top cap for a total of 32 airflow holes. These airflow holes are arranged in three rows; 5 airflow holes on the top row, 6 in the middle, and 5 on the bottom row.
If you continue to turn the top cap past these 16 holes, you'll find 2 rows of holes for just the middle and bottom rows. The Profile PS gives a lot of options for airflow and there's a ton of ways that you can configure it to get just the right amount of airflow that you're looking for. You can even set it to half way on the 3 rows of airflow and halfway on the 2 rows of airflow holes if you like the draw.
The Profile PS is a solid mesh RDA. The flavor that comes out of this tank with two strips of mesh is absolutely amazing. If you thought that single mesh RDAs were the pinnacle of flavor for rebuildables, just wait until you try the Profile PS. The Profile PS is our choice for the best mesh RDA of 2022.
---
If you're looking for an easy to use, flavorful mesh coil RDA, then look no further than the Wotofo Profile 1.5 RDA. It's the follow up to the highly acclaimed original Profile and it's once again a collaboration between Wotofo and Mr.JustRight1. 
This RDA has been improved to be even easier to build on while still delivering the best flavor possible from a mesh build deck. The deck has two posts which clamp down to ensure a strong connection with any type of build. While meant to use mesh, the Profile 1.5 RDA will work great with any type of coil.
The airflow on the Profile 1.5 consists of a series of small holes on each side of the cap. The airflow is fully adjustable to your preference and directs airflow from the side inlets straight to your coil.
---
The Mesh V2 is the follow up to Vandy Vape's original Mesh RDA and it's been redesigned to be even better. It has a postless, clamp-style build-deck that is meant for mesh coils and super easy to build on. The Mesh V2 has a 25mm base diameter and it comes in a bunch of nice colors.
Included with the Mesh V2 are four different types of mesh strips: Kanthal, Ni80, SS316L and Dual M. These mesh coils provide better and more intense flavor due to their increased surface area and the clouds you get are no slouch either. 
If you're not one for mesh coils, standard coils work wonderfully on the Mesh V2 so that shouldn't stop you from picking one up. The build deck is as simple as can be with the spring-loaded clamps and installing your coils are a breeze.
The airflow control on the Mesh RDA consists of two rows of airflow holes located near the top of the tank. This makes the Mesh V2 nearly leak-proof. If used as a dripper, you'll have to drip quite often so the Mesh V2 is best used as a squonk RDA. Of course, it comes with a squonk pin and performs excellently when used with a squonk mod.
---
What is an RDA?
RDA stands for Rebuildable Dripping Atomizer, and is a type of 'tank' that you see on the top of vape mods. RDAs don't actually have a tank, but rather have a 'juice well' in which a small amount of juice can collect. An RDAs main purpose is to allow the vaper to 'drip' a small amount of juice directly onto the coil and wick, and provide around a dozen draws. There are a number of benefits over a traditional atomizer and tank setup.
---
Why use an RDA?
There are a number of reasons why people would choose an RDA over a traditional atomizer and tank setup:
Intensified Flavor
Because the coils of an RDA are closer in proximity to the drip tip(where you inhale), RDAs produce a stronger, more intense flavor. This flavor enhancement is also because of how open the coils are versus the more closed-in coils of a traditional refillable tank. This is especially true in top airflow RDAs.
Larger Cloud Production
RDAs are known for their ability to produce massive cloud of vapor, and are a favorite in the vaping community for this reason. This is again due in part to the coil being very open to airflow. RDAs can chuck some serious clouds.
More Cost Effective
You should build your own coils with an RDA (you can buy premade coils, but building is fun and is much cheaper!) and there are a number of benefits to this. Importantly, it's much cheaper than buying coils for refillable tanks. With a little bit of learning, you'll be making coils like a pro (be sure to practice proper battery and coil safety precautions)!
Customization Options
Because you can build your own coils with RDAs, you have a wide-range of options. You can do single or multiple coil builds, straight coils, twisted coils, clapton coils, and many many more.
There are dozens of different styles of coils that can be made, and they arguably can produce better flavor and cloud production. Most importantly you can choose your number of wraps and your wire gauge, and thus your desired resistance for your coil. If you're looking to completely personalize your vaping experience, an RDA is for you.
---
Final Thoughts
If you're looking to buy an RDA, we hope that our list of the best RDAs has helped you make that decision! Each and every one of these RDAs on our list has been selected because of their rating among users, flavor intensity, customizability, and cloud production.
At Versed Vaper, we strive to produce incredible content that helps you to be more informed in your purchases and we hope that you learned something that you didn't know!
---
Let us help you
Have a question or a comment? Need help? Even if you just want to share your love for vaping. Send us an email! We would love to hear from you!