Get the most from your squonk mod with these bottom fed RDAs
Squonking is the best of both worlds. You get the flavor and clouds that you want from an RDA without the hassle of having to drip. Using a squonk mod makes using an RDA simple — just squeeze on your squonk bottle and you're ready to vape again.
Because of their intensified flavor, large clouds, cost effectiveness and customization options, RDAs are the natural choice for any vaper looking to get the most out of their ejuice.
When you combine these benefits with the added convenience of a squonk mod and thus the ability to go drip free, you've got a bottom-feeding squonk RDA that makes life a lot more convenient.
Because we know how hard it can be to find a good RDA that works well for squonking, we've created this list of the best squonk RDAs that you can buy right now. These bottom-feeding RDAs are the best of the best and all include a hollow 510 squonk pin.
No matter which one you choose, these bottom-feeding RDAs will make squonking better by delivering a smooth vaping and squonking experience with minimal leaks or hassle. This list of the best squonk RDAs has been created based on community feedback and reviews, as well as through in-depth research and experiences of the Versed Vaper team. Let's get right into it!
---
The Recurve V2 is built for squonking. The deck and airflow holes are raised from the bottom of the build deck and the 2ml juice well gives plenty of room to squonk without worry about flooding. Plus, there are channels in the deck that lead from the central squonk pin straight to your cotton for efficient wicking.

CHECK PRICE



Why Trust Us
All of our buyer's guides and reviews are based on market research, expert input, and practical experience with the products we include. This way, we offer genuine, accurate guides to help you find the best picks.
Learn more
---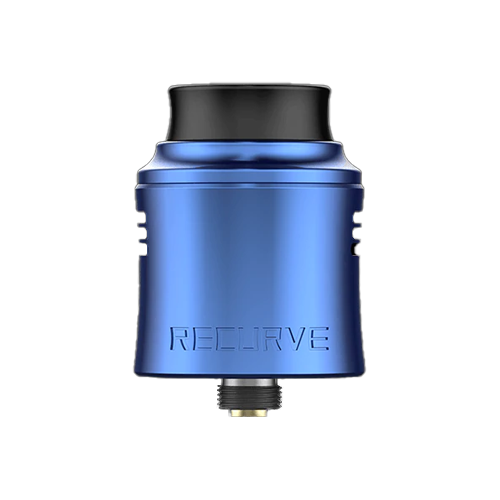 The Recurve V2 is a collaboration with Mike Vapes and it's one of the best squonk RDAs out. It's the successor to both the Recurve RDA and Recurve Dual RDA and comes with a few changes that make it the best Recurve yet.
The Recurve V2 features a four terminal, postless build deck that can accommodate either single or dual coil builds. It also comes with two airflow inserts. These airflow inserts each have three rows of 5 airflow holes, but they differ in the amount of space that they leave on the build deck. One insert is for single coil builds and leaves less space on the deck, while the other insert is wider and meant for dual coil builds. It's essentially two RDAs in one.
The top cap is stepped and allows you to adjust the airflow by rotating it. You can close off the top row of airflow holes and leave the bottom two rows open for a slightly restricted draw, or close the top 2 rows of airflow holes and leave just the bottom row open for a very restricted draw.
The Recurve V2 is an equally great performer with single coil builds as it is with dual coil builds and the airflow inserts make a world of difference. As long as you use the single coil insert for your single coil builds, you'll get flavor that is just as good as a dual coil build. 
The build deck is quite spacious and can accommodate dual 3mm ID coils or up to a 5mm ID single coil. The build deck is also concave and channels ejuice back to your wicks. 
A great design feature is the extremely deep juice well. It will hold 2ml of ejuice which means that you can squonk liberally without worry of flooding or leaking. When you do squonk, there are channels that lead directly from the central squonk pin and straight to your cotton for efficient wicking.
For the absolute best bottom-feeding, squonk RDA in 2022 get yourself a Recurve V2.
---
As functional as it is beautiful, the Dead Rabbit V2 SE is a dual coil RDA produced by Hellvape. It's the successor to the Dead Rabbit and it's been given a few upgrades that make it even better. This Special Edition comes with 4 different colored top caps: clear, red, blue, and black.
Like the original, the Dead Rabbit V2 SE features a top-terminal, four-post build deck design that allows you to insert your leads without having to do any precise measuring. Simply drop your coils in and trim your leads from the bottom after securing them. Voila!
Already known as one of the best RDAs available, the Dead Rabbit V2 SE is also one of the best squonk RDAs and makes squonking much better. Included with the Dead Rabbit V2 SE is a gold plated bottom-fed 510 squonk connector, as well as a regular 510 connector pin. The squonking performance of this bottom-fed RDA is superb and disperses ejuice quickly and evenly without any leakage.
At 24mm in diameter, the Dead Rabbit V2 SE gives ample room for any single or dual coil build and it also has a deep juice well. Plus, with gold plated terminals and side-mounted screws for securing your leads, this deck also makes building a fair bit smoother and easier.
The Dead Rabbit V2 SE delivers such impressive flavor and clouds that it's a must have in any squonkers RDA collection. Do yourself a favor and get one now because if you don't, you'll end up getting one later. Why wait?
---
The Vaperz Cloud Temple RDA is an updated version of the Temple Mini RDA from 2016. This is the RDA to get if you're into using large, exotic dual coil builds; the spacious 25mm deck gives more than enough room to build the largest and most complex coils.
The airflow on the Temple RDA consists of 21 small airflow holes on each side of the tank (that's 42 airflow holes in total!). These airflow holes bring airflow right to the bottom of your coils. This gives the Temple RDA the flavor of a bottom airflow tank, but with the leak-resistance benefits of a top airflow RDA.
The Temple RDA keeps the same 2 post build deck as the original. The 3mm post holes allow plenty of room to fit exotic coils and large gauge wire builds, and the 6ml juice well gives plenty of room to drip without worry of flooding. The Temple RDA comes with a quick-release 510 pin for easy squonking use. 
The most interesting feature of the Temple RDA is its acrylic chamber reducer. This reduces the size of the deck to concentrate and enhance flavor. It also raises the airflow holes slightly higher to further reduce the chance of leaking. 
The Temple RDA delivers flavor and performance that is absolutely top notch. It comfortably claims its place as one of the best squonk RDAs of 2022.
---
The Wotofo Profile 1.5 uses mesh coils to deliver enhanced flavor and wicking capabilities. A collaboration between Wotofo and Mr.JustRight1, this RDA was created with a focus on bringing out the best flavor possible from a mesh build deck. 
The deck has two posts, which clamp down to ensure a strong connection with any type of build. It's got a deep juice well to allow ample squonking or dripping and comes fully ready for use with squonk mods.
The airflow on the Profile 1.5 consists of a series of small holes on each side of the cap. The airflow is fully adjustable to your preference and directs airflow from the side inlets straight to your coil.
---
The Druga 2 RDA is the new version of the original Druga, which was released back in 2017. It's a collaboration between Augvape and Mike Vapeshouse, an Indonesian coil builder.
The Druga 2 is a great squonk RDA because it has a 6mm deep juice well that is nearly impossible to over-squonk; you would have to go crazy over-squonking in order to cause a leak! Worry free squonking is the best squonking. The Druga 2 comes with both a gold-plated standard 510 pin as well as a gold-plated squonk pin.
There are six airflow holes that can be configured in almost any way you can imagine. You can close off the top row of airflow holes one by one, or the bottom row of airflow holes one by one. You can also close off airflow holes vertically by twisting the top cap in the opposite direction.
The deck on the Druga 2  is dominated by two extremely large vertical posts that make it easy to use either single or dual coils. Augvape calls this a 'Clamp Snag System'. The size of the post holes are enormous and there are two grub screws that you can tighten or loosen with your fingers. The way this deck is constructed allows you to easily position larger coils and the top-positioned screws make it easy to secure them in.
The deck design and airflow configuration options make the Druga 2 easy to use, and the flavor and cloud production are great. This is an RDA that performs at a top level — you really can't go wrong with it. So for those looking for an efficient bottom-feeding squonk RDA that will easily fit exotic builds and deliver great flavor and clouds, the Druga 2 is a great choice.
---
The Wotofo STNG is designed for use with bottom feeding squonk devices (it comes with a standard 510 pin however) and makes it on our list of the best squonk RDAs for a number of reasons. Mainly, if you're looking for an efficient, single coil squonk RDA, the Wotofo STNG delivers. It's also one of the most flavorful MTL RDAs that you can get.
The STNG's airflow design is what makes it so flavorful. Air gets funneled straight from the single airflow hole on the side of the tank and directed up through two holes in the middle of the build deck. This means that when you inhale, air hits your coil from underneath to deliver a tight, flavorful MTL draw that really outshines any competitors.
The deck on the STNG has an efficient squonking design that wicks coils effectively. This bottom-fed RDA also has an ample juice well that should be more than deep enough for those that over-drip or over-squonk. 
While this bottom-feeding RDA doesn't come in as many colors as some of the others on our list, it certainly performs at a top level. If you're looking for an efficient bottom feeding RDA that delivers a tight MTL draw, the Wotofo STNG is a great choice.
---
The Asgard Mini is a 25mm dual coil RDA made by Vaperz Cloud. It's got beautiful lines and precise machining that make it one of the best looking RDAs around. It has a spacious postless build deck with four large terminals for easy building. The large deck space will fit almost any dual coil build you want.
The airflow on this RDA is made up of 24 airflow holes per side, arranged in three rows of eight holes. By turning the top cap you can achieve more or less airflow and the holes funnel air directly to your coil. Whether you're looking for a tight or loose draw, this airflow lets you have it. 
The Asgard Mini also lets you drip or squonk liberally without worry thanks to its leak resistant deck design and 6ml juice well. It's fully squonk ready and comes with a quick-release 510 squonk pin that makes switching from dripping to squonking quick and easy. 
---
A collaboration between Vaping Bogan and Vandy Vape, the Bonza V1.5 is a revamped and improved version of the legendary Bonza RDA. This dual coil bottom-fed RDA features a dual post, clamp-style deck that is very easy to build on. And thanks to the large, beefy clamps you're able to fit large and complex coil builds without a problem.
For airflow, the Bonza V1.5 has fifteen small airflow holes on each side of the tank. These are arranged in three rows of five holes. By turning the topcap of the Bonza V1.5 you can adjust and close off the airflow in a variety of ways. You can close off rows or columns of holes or close off individual holes one at a time. This level of customization for your airflow is unrivaled.
The domed chimney ensures concentrated and flavorful hits while the 9mm deep juice well means you don't have to be careful. You can squonk or drip to your heart's content without having to worry about leaking or flooding. The Bonza V1.5 includes a bottom feeding 510 squonk pin so that you can squonk right out of the box.
The Bonza V1.5 was made with squonking, simplicity and ease of building in mind and comes from two respectable names in the vaping industry that you can trust.
---
The Recurve is a single coil bottom-feeding squonk RDA and is a collaboration between Wotofo and popular YouTube reviewer Mike Vapes. This 24mm RDA is designed for maximum flavor and features a bow-shaped, postless build deck. This RDA is great for squonking and will deliver some of the best flavor out there. There are four terminal openings to accommodate either forward or reverse wrapped coils and the build deck has a concave shape that maximizes airflow and works to deliver incredible flavor.
The airflow on the Wotofo Recurve is fully adjustable and consists of six holes on either side of the RDA. If you position your coil correctly these holes will funnel air directly under and around the coil, giving you big clouds and intense flavor.
The juice well on the Recurve is a bit shallow at 4mm deep so you do have to be careful not to over drip. But for those of you who like to squonk the Recurve RDA comes squonk ready with a bottom-feeding squonk pin. The Recurve is available in a variety of different colors and finishes and is one of our top picks for the best squonk RDA in 2022.
---
Vandy Vape are one of the most innovative companies in the vaping industry. So it should come as no surprise that the Mesh RDA brings some new and exciting features. For starters, the Mesh RDA has a postless, clamp-style deck that is super easy to build on, and will accommodate either single or dual coil builds. The Mesh is 24mm in diameter, and comes in a variety of colors.
Perhaps most exciting though is the fact that the Mesh is capable of being used with mesh coils. Kanthal, Ni200, and SS mesh wire is included with the RDA, so you can try it out right away too. Mesh coils are said to provide a better and more intense flavor due to the increased surface area of the coils, and the Mesh RDA gives users an easy way to try it out.
If you're not one for mesh coils, standard coils work wonderfully on the Mesh, so that shouldn't stop you from picking one up. The build deck is as simple as can be with the postless clamp style, and installing your coils is a breeze.
The airflow control on the Mesh RDA consists of two wide airflow slots which are fully adjustable to your preference. Also, the Mesh includes both a standard 510 pin, as well as a bottom feeding squonk pin.
When it comes to squonking performance, the Mesh is amazing and distributes juice evenly and without a hassle. One thing to note however, is that the deck on the Mesh is not very deep. This means that you'll have to be careful to lay your cotton out appropriately, and be careful not to over squonk.
---
What Squonk Mod Should I Use?
If you want to get the most out of these bottom-fed RDAs then you'll want to use a good squonk mod. We've compiled a list of the Best Squonk Mods that you can take a look at to figure out which one is right for you.
---
Let us help you
Have a question or a comment? Need help? Even if you just want to share your love for vaping. Send us an email! We would love to hear from you!